Corporate Social Responsibility Program
Accenture Visiting Professor of the Practice
Visiting Professor of the Practice in the Sanford School of Public Policy
Stanley Litow teaches graduate courses on the role of corporations in society and the politics of education. He previously served as IBM's Vice President for Corporate Responsibility  and President of the IBM Foundation for over two decades under three CEOs. He is the author of " The Challenge for Business and Society: From Risk to Reward" and is a regular columnist for Barron's. He has held high level positions for the Mayor and Governor of New York, and served as New York City's Deputy Schools Chancellor.
In addition to sessions led by Prof. Stanley Litow, the program's director, program participants will have the opportunity to hear from leaders from across the corporate social responsibility space. The following list provides a selection of some the speakers featured during the program.
Utaukwa Allen, is the Vice-President, CSR, Citizenship and ESG at Kyndryl, the world's largest IT infrastructure services provider. Before joining Kyndryl, Utaukwa served as a Senior Director at Microsoft, leading the  community development and sustainability strategy for Microsoft's global datacenter operations in 60+ cities and regions. Prior to Microsoft, Utaukwa practiced corporate, privacy, and education law in California, North Carolina, and New York.  She earned her doctorate in education from Harvard University, focusing on inclusive pedagogy and higher education access for marginalized groups.  Utaukwa also holds a Juris Doctor from Duke University School of Law, a Master's degree in international education from New York University, and a B.A. from Duke University.
Wayne S. Balta is the Vice President of Corporate Environmental Affairs and Product Safety at IBM Corporation and the company's Chief Sustainability Officer. He has global responsibility for environmental affairs, energy efficiency, and toxicology and chemical management as well as product safety and related hardware compliance functions. He joined IBM in 1984. In addition to his role as IBM's chief environmental executive, Mr. Balta is a member of IBM's Acceleration Team – a group of the company's top leaders that drives company-wide innovation and growth. A 36-year veteran of IBM, he has served on IBM's Global Enablement Team for Kenya and East Africa and is IBM's Partnership Executive for Carnegie Mellon University.
Mr. Balta has played a leadership role with a variety of organizations. He has served as Vice Chairman of the Board of the Environmental Law Institute and as Chairman of the Board of the World Environment Center. He has been a member and past Chairman of The Conference Board's Chief Environment, Health & Safety Officers Council. He is a member of the Governing Consortium for the UN Environment Programme's Science Policy Business Forum. He serves as a member of the Sustainability Advisory Board for the Smeal College of Business at Penn State University and has served on the Strategic Advisory Council for the University of Michigan's Erb Institute for Global Sustainable Enterprise.
Karima Bryant is the Chief Inclusion, Diversity and Equity Officer for Kyndryl.  She is an outstanding Human Resources executive with expertise and experience in leading and coaching organizations through change management and transformation with a focus on people and talent.  Karima began her IBM career more than 20 years ago as a strategy consultant and has since held several leadership roles throughout HR.
In her prior role, Karima was the Diversity & Inclusion Leader and Chief of Staff to the SVP Sponsor for the IBM Black Community.  In this role, Karima led a cross functional team of executives and senior leaders for IBM's Emb(race) social justice efforts and programs including the IBM-HBCU Ecosystem Strategy and OneTen commitment.  Prior to this role Karima was a Global Business Unit HR Leader where she defined talent and HR solutions for Global Markets Managing Directors who led multi-billion-dollar industries for IBM in the Insurance and Public Sectors.
Additionally, Karima has experience working in IBM's Watson Health division. During her role as the Watson Health Global Talent Partner, Karima partnered with HR Executives to align talent strategies to meet Watson Health's unique business needs.  Karima was also a Senior Leadership Development Consultant responsible for coaching, design and delivery of learning and development initiatives for IBM Senior Executives.
Karima holds a Bachelor of Science in Business Management from Hampton University, and a Master of Business Administration from Indiana University's Kelley School of Business.  Karima and her husband James L Bryant III have four beautiful children.
John Bridgeland is Founder & CEO of Civic, a social enterprise firm in Washington, D.C. He is also Executive Chairman of the Office of American Possibilities, a moonshot factory to tap the entrepreneurial talent of Americans to solve public challenges together across divides. In that capacity, he is Co-Founder and CEO of the COVID Collaborative, a national platform to combat COVID-19; Co-Chairman of Welcome.US to inspire, educate and engage Americans in supporting the resettlement of Afghan, Ukrainian and other refugees; Co-Founder of ACT NOW, a ground-up effort to re-envision community safety and policing; and Co-Founder of the Partnership for American Democracy to align efforts in democratic renewal around 5 "Sustainable Democracy Goals."
He is Co-Founder and Vice Chairman of the Service Year Alliance, an initiative to create a civilian national service counterpart to military service in the United States; Co-Founder and Vice Chairman of Malaria No More to end malaria deaths in Africa; and Co-Convener of the GradNation campaign to address the high school dropout crisis.
​Previously, Bridgeland was appointed by President Obama to serve on the White House Council for Community Solutions. He also served as Director of the White House Domestic Policy Council, Assistant to the President of the United States, and first Director of the USA Freedom Corps after 9/11 under President George W. Bush. He is a graduate of Harvard College and the University of Virginia School of Law and has given commencement addresses at the College of William & Mary, Johns Hopkins University, Saint Anselm College, Averett University, Hamline University, and Ripon College. In addition, he founded Tennis for America in 2020 with the Intercollegiate Tennis Association, which awarded him their "Lifetime Achievement Award," presented by Wimbledon Champion Stan Smith.  He is the author of the book, Heart of the Nation: Volunteering and America's Civic Spirit.
Marta Cali has two decades of experience working with international organizations and think tanks. She is currently Chief of Policy and Innovation (ad interim) at the United Nations Development Coordination Office (DCO) in New York, which supports 162 countries (and territories), through the UN Resident Coordinator System, in their national efforts for sustainable development, guided by the Sustainable Development Goals (SDGs).
Since joining the United Nations in 2003 as a Political Affairs Officer, she has held assignments with a range of UN offices and agencies both at headquarters and in the field, including with UNICEF in Nepal advising the Government on Social Protection; with the UN Institute for Training and Research (UNITAR) in Japan, managing a capacity-building programme for anti-corruption in West and North Africa; and with the UN Secretariat in New York coordinating the global UN duty of care response against COVID-19.
Marta holds a masters' degree in international history and politics from the Graduate Institute for International Studies in Geneva.
Jon Cardinal is currently Director of Economic Development for United States Senate Democratic Leader Charles E. Schumer. He advises Leader Schumer on various economic and community development policy areas, manages the Senator's relationships with CEOs and the broader private sector, and leads an outreach operation that implements the Senator's economic development goals. Jon previously served in a similar role for more than a decade with U.S. Senator Kirsten Gillibrand, and prior to joining Senator Gillibrand's office, Jon was an aide on the staff of former U.S. Senator Hillary Rodham Clinton.
Tom Freedman is the President of Freedman Consulting, LLC and serves as an advisor to leading foundations, public interest causes, and nonprofit organizations.
Tom served in the Clinton Administration as Senior Advisor to the President; prior to that, he was Special Assistant to the President for Policy Planning. In the 1996 presidential campaign, Tom was Chief of Staff for Strategy, helping to create the policy and communications plan for Clinton/Gore '96. Previously, he was Press Secretary and later Legislative Director to then Congressman Charles E. Schumer (D-NY). He co-founded the Welfare to Work Partnership, a nonprofit organization which grew to include more than 20,000 companies that hired more than 1 million Americans off of public assistance. Tom served as a member of the 2008 presidential Obama-Biden Transition Project on the Technology, Innovation, and Government Reform Policy Working Group, and was a policy consultant for President Obama's reelection campaign in 2012, Obama for America.
Tom has been a Visiting Scholar at Resources for the Future and was awarded a traveling Watson Fellowship in 1985, through which he conducted a year-long study of the African famine. He has published opinion articles in a variety of newspapers, including The New York Times, The Christian Science Monitor, and The Washington Post. In 2009, Tom authored the chapter of recommendations for the next Domestic Policy Council in the book Change for America: A Progressive Blueprint for the 44th President (Center for American Progress) and wrote a chapter on ending child hunger in America with Joel Berg in the book Memos to the New President (Progressive Policy Institute).
J.J. Johnson is Chief Communications Officer and Executive Vice President, Communications, Public Affairs, and Policy for Fidelity Investments. In his current role, Mr. Johnson supports Fidelity's long-term business and strategic agenda by overseeing a number of key functions, including Government Relations and Public Policy, Media and Public Affairs, Internal Communications, and Community Relations. Prior to joining Fidelity, Mr. Johnson was Senior Vice President, Government Relations and Head of Global Human Resources for the NASDAQ Stock Market beginning in 2003. From 1998 to 2003, Mr. Johnson was Vice President, Congressional Affairs and Director of Federal Legislative Strategy for AT&T. He currently serves on the boards of Reading is Fundamental, the United States Chamber of Commerce, and the Investment Company Institute.
Malia Lazu is an award winning, tenured strategist in diversity & inclusion has sparked deep economic development and investment in urban entrepreneurship for over twenty years. In her most recent role as Executive Vice President and Regional President at Berkshire Bank, Malia worked to generate wealth for communities by expanding access to capital and spurring economic growth —especially in communities of color that have traditionally been left behind. Prior to her work with Berkshire Bank, Malia worked with the city to create Accelerate Boston which helped launch over twenty minority businesses in its first five years and continues to help minority entrepreneurs raise capital. Malia currently sits on the boards of the Boston Chamber of Commerce, Massachusetts Business Roundtable, evolutionary Spaces, and the Nation Magazine Editorial Board.
Roseann Lynch is the Executive Vice President and Chief People Officer at Ralph Lauren. Ms. Lynch is responsible for the Company's global people and development, which comprises global talent management and acquisition, learning and development, employee benefits and organizational effectiveness. Ms. Lynch joined the Company in 2004.
Ralph Lauren has been recognized as: "Best place to work for People with Disabilities" - 2021 Disability Equality Index, "Best Employers for Diversity" - 2021 Forbes, "Best Companies for Women to Advance" - 2020-2022 Parity Org.,  and "Best Place for LGBTQ Equality" - 2020-2022 Human Rights Campaign.
Luis Maes is passionate about leading teams that are leveraging the unique assets and capabilities of organizations to do good for the community, environment and business. He is currently the Head of Social Global Impact at Electronic Arts (EA). Prior to this, Luis served as the Senior Director for Purpose Initiatives for Nike's Workplace Design and Connectivity team where he leads efforts to create a healthy planet, active communities and an equal playing field for all. Previously, Luis led strategic planning efforts for Nike's Global Community Impact team and before joining the Swoosh, Luis had the privilege of leading transformational social impact teams and projects at Walmart and the United States Agency for International Development.
Meaghan Muldoon is Global Head of ESG Integration at BlackRock. In this role, Ms. Muldoon leads the integration of ESG considerations across all active investment platforms at BlackRock. She most recently served as EMEA Head of Sustainable Investing, focused on identifying drivers of long-term return associated with environmental, social, and governance issues, integrating them throughout BlackRock's investment process, and creating solutions for our EMEA clients to achieve sustainable investment returns. Prior to joining BlackRock in 2016, Ms. Muldoon served for more than seven years as a fiscal and economic policy advisor in the Obama Administration. Most recently, she served as Counselor to the Treasury Secretary, coordinating the Department's fiscal, domestic, and economic policy efforts. In previous roles, Ms. Muldoon served at the White House as Deputy Assistant to the President and Policy Advisor to the Chief of Staff, as Associate Director to the National Commission on Fiscal Responsibility and Reform (Bowles-Simpson Commission), and as a lead advisor to three Directors of the Office of Management and Budget.
Chris Padilla leads IBM's global government affairs team of more than 100 professionals in thirty six countries. His team represents IBM before governments worldwide on such issues as cyber security and encryption policy; the regulation of blockchain, artificial intelligence, and quantum computing; taxation, trade and supply chain matters; workforce and education policy; and government procurement. He is also responsible for corporate compliance with export controls, economic sanctions, and customs regulations.
Recently his team launched the IBM Policy Lab, an innovation center focused on policy solutions for the modern digital economy. (https://www.ibm.com/policy/policylab/). Chris holds leadership and board positions on many technology industry bodies and nonprofits and has been named one of Washington's Top Corporate Lobbyists by The Hill newspaper.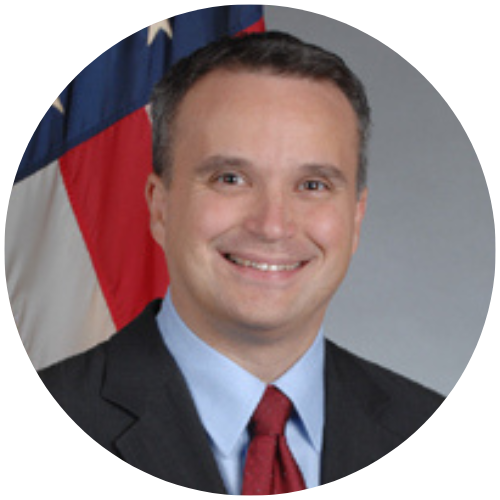 Gonzalo Pertile is a social entrepreneur and public sector consultant. He holds a BS degree in Business Management from the University of Montevideo (Uruguay) and a certificate in Crime Prevention at the Local Level from the Institute of Public Affairs from the University of Chile. Originally from Uruguay, Gonzalo has extensive international work experience, both in the private and public sector. During his initial professional career he worked for a multinational corporation in the oil and gas industry, focusing on the supply chain division and as a business process redesign consultant in the Scotland branch of the company. Later, he moved to Guatemala where he worked at the Inter-American Development Bank (IDB) as an international consultant in the bank's Reform/Modernization of the State Division. During this time he contributed to developing an intervention model named Coaching for Results, which is an innovative approach to strengthening public institutional performance. This model was introduced as a new IDB initiative that seeks to address institutional management weaknesses in the public sector in a short time frame, with minimal investment and with measurable impacts within public institutions. Under this project Gonzalo worked closely with the Ministry of Public Health and Social Welfare, Ministry of Public Finance and the Ministry of Interior of Guatemala. He continued his consultancy experience in Guatemala with the United States Agency for International Development (USAID), in a project aimed at reviewing and updating the structure and processes of the Departmental Offices of the Ministry of Education of Guatemala.
Gonzalo has always had a social orientation and interest in development, and this is how – after living in Guatemala for a while – he decided to embark on a personal endeavor and co-founded The Mayan Store, a social enterprise that provides sustainable job opportunities for more than 550 artisans around Guatemala. The organization was awarded the 2013 Small and Medium-Sized Enterprise( SME) Exporter of the Year and implements social projects to foster better livelihoods for artisans in Guatemala in collaboration with the Taiwan International Cooperation and Development Fund, Ministry of Economy of Guatemala, Feed the Future, Save the Children and Guatemala's Exporters Association.
Jennie Sparandara is the Executive Director of Global Philanthropy at JPMorgan Chase where she leads the firm's global workforce portfolio. In this role she implements the firm's commitment to expanding economic inclusion through innovative programs, thoughtful research and by leveraging the firm's vast resources and talented employees. Signature projects include strategic development of New Skills at Work, JPMorgan's $250MM commitment to building skills around the globe for young people and adults and New Skills for Youth South Bronx, a $6MM initiative to build more effective career pathways in New York City.
Jennie joined the firm in 2016; she was most recently the Executive Director of the Job Opportunity Investment Network (JOIN), a partnership between philanthropy, government, community organizations and employers in Greater Philadelphia that creates a collaborative space for developing and testing industry-led job training. Prior to JOIN, Jennie served as the first Director of Human Capital Investments in the City of Philadelphia where she was responsible for the coordination of Philadelphia's anti-poverty programs and workforce development initiatives, including the strategic realignment of the city's workforce agencies. Previously, Jennie worked in the federal government and local and national policy organizations.
Jennie holds a Bachelors degree from Barnard College, Columbia University and a Masters degree in Public Policy from Georgetown University.
Max Stier is the founding president and CEO of the Partnership for Public Service. At the Partnership, he oversees efforts to provide data, insights and recommendations to the executive and legislative branches, create and deliver programs for federal leaders at all levels, strengthen and support the federal workforce, and build connections among the public, private and charitable sectors.
A former public servant in all three branches of government and a member of the Inaugural Advisory Council of the National Institute of Social Sciences, Max has authored more than 100 opinion pieces, is routinely called upon to testify on major issues before Congress, and has been cited in outlets such as The Washington Post, The New York Times and The Wall Street Journal. He was also featured in Michael Lewis' best-selling book, "The Fifth Risk," and has been named "Washingtonian of the Year" by Washingtonian Magazine—an award recognizing "people who make our region better."
While working in government, Max realized just how much great leaders can influence and improve their organizations. At Justice, he started a paralegal program modeled on the private sector and watched as an influx of talented young graduates energized and transformed the agency's culture. At HUD, he witnessed the potent role that skillful leaders play in making a difference for the American public.
Max's favorite public servant is Teddy Roosevelt who, along with his many other accomplishments, is the father of the civil service.
Gina Tesla leads Coupa's Environmental, Social, and Governance team, spanning sustainability, social impact and diversity, equity & inclusion. She is passionate about the intersection of business & society, creating innovative partnerships and building strong, diverse teams. She also leads Empower at Coupa, which is focused on working smarter together to unleash the power of women, and their allies to #breakthebias and build a more inclusive world.
Prior to Coupa, Gina was at Microsoft, where she conceptualized the Sustainability Service Line for Microsoft Consulting Services. Additionally, as a leader at IBM in Corporate Responsibility for 10 years, Gina's portfolio spanned multi-million-dollar investments driving social impact across education & skills, health, gender equity and community resiliency. She also led global Sustainability, covering employee engagement, environment, human resources, public policy, supply chain, and governance.  Gina also drove IBM's employee volunteerism and the award-winning Corporate Service Corps, including 4,000 employees from 60 countries and spanning 1,500 social impact projects in 40 countries.
Gina holds an MBA from the Johnson Graduate School of Management at Cornell University. She also served as a U.S. Peace Corps Volunteer in Panama. Her successful career began in advertising, including roles at Young & Rubicam, Ogilvy & Mather and McCann Erickson.